St. Oswald's Church
St. Oswald's was built in 1890 as a mission church sponsored by St. Chad's to provide the people living in that part of the parish with a place of worship nearer to their homes. A Men's Club was built nearby in 1902 to give the local men somewhere to pass their leisure time.
In time, the church was enlarged and the old organ from St. Chad's installed in about 1910, St. Chad's now having the magnificent Harrison and Harrison organ still in use today.
The final service before the closure of St. Oswald's took place on the 28th July 2002 at 6.30pm when the Bishop of Ripon and Leeds preached.
This was truly a sad-happy occasion but it was also a positive one. The people of St. Chad's are delighted to welcome the members of St. Oswald's to regular worship at their church and embrace the strengths and contribution they will bring to the life of St.Chad's. It was wonderful to see so many people at the service, especially some of the former vicars and curates of the Parish. Many old friendships and acquaintances were renewed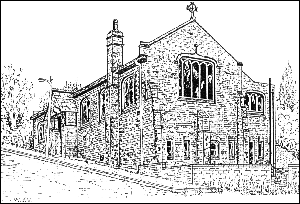 St. Oswald's Church, Highbury, Meanwood
If you would like to know about St. Oswald click on the links
About St. Oswald
More about St. Oswald