The Bell Tower
Originally the church had only three bells, which were cast in 1867. A further four were added in 1872 and a treble in 1876. All were cast by John William Taylor senior and recast in 1933 by his son, Edmund Denison Taylor, at his own expense. The weight of the tenor was originally 20 cwt., but after recasting is now 18 cwt. 2qr. 18 lb. in E
St Chad's Spire and Bells
The following is from an article published in 'The Ringing World' on 30 April 1971.
Situated three miles on the north-west side of the city of Leeds on the main Leeds - Otley road, Far Headingley is a well-populated suburb, the church managing to retain a rural atmosphere, with the church cricket club ground in front of the church.
Provided for the parish by the first Lord Grimthorpe, the church was consecrated on 11 January 1868. Between 1909 and 1911 the church was extended and a new chancel built together with a Lady Chapel. This put the 175ft tower and steeple into a much better perspective. The style of the church is 14th century Gothic and is especially dominant within. The tower and steeple are beautifully designed, the spire being octagonal and triple-banded in a double elongated lozenge pattern – a rare feature. By coincidence it is similar in design to the spires of Salisbury and Lichfield Cathedrals.
Originally the church had only three bells, which were cast in 1867. A further four were added in 1872 and a treble in 1876. All were cast by John William Taylor sen. and were recast in 1933 by his son, Edmund Denison Taylor, at his own expense. The weight of the tenor was originally 20cwt., but after the recasting is now 18cwt 2qr. 18lb in E.* Hung in an oak frame, the bells are acknowledged by many to be one of the finest rings of eight in the country.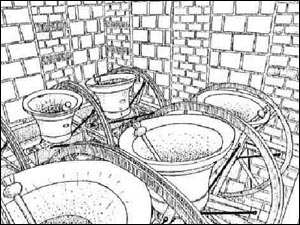 An interesting record in the tower is that of the first peal on the augmented eight, one of Kent Treble Bob Major, on 22 December 1877, conducted by Jasper W. Snowdon, who was the first president of the Yorkshire Association.
A former vicar of the church was Canon C. C. Marshall, who, in addition to being for over 35 years the president of the Yorkshire Association, was a very active ringer for over 40 years at St Chad's. He was followed as president of the association by Canon C. O. Ellison, a former curate of the church.
The bells are rung twice every Sunday, and the practises on Thursdays are always well attended. During the academic year there are augmented by students from the University of Leeds, many of whom reside in the parish. Yorkshire rope-ends are of course, the order of the day.
Alfie and Ernest Johnson
* As a sub-note, the bells have been analysed tonally since this article was produced and deduced that actually the bells are tuned closer to the key of E flat rather than E, but they are a sharp E Flat.